After going to a Bunco Birthday Dinner on Tuesday evening, with sneezing, eyes watering, and nose running I thought I would be in bed recovering from a bad cold on Wednesday. But after taking 3 Advils, 1000 IU's of Vitamin C, and a Benadryl I went to bed and slept (not surprised with all that) and woke up feeling almost normal again. Took another in the morning Benadryl and another 1000 IU's of Vitamin C just in case and got up, got dressed and went to Bible Study. I am really enjoying this new book about Martha and Mary and I sure didn't want to miss the first lesson.
Since I was having Book Club at my home on Thursday evening, I had to get busy and finish the book....it's always appropriate that the hostess reads the chosen book and leads the discussion....so off to bed I went to read, read, and read. I did finish, and I liked the book, "The Language of Flowers". So interesting how flowers can speak and relay the exact emotions you may be feeling. Interesting and different from anything I have ever read. Good book club read.
Then it was time to drag the Fall decor up from the basement. Having the girls coming over sure helps me get my motor running to get the house ready for Fall. Last year I think I finally put up a few things in November, hardly enough time to enjoy before the Christmas decorations were saying "it's our turn". And I love all the Fall colors. So now I can enjoy these beauties until early December.
For bookclub I decided it was also time for something Fall tasting....so I called my culinary friend and asked how I could make pumpkin cupcakes using a cake mix. Use a white cake mix, reduce the liquid, add 1 cup canned pumpkin and 1 tsp pumpkin pie spice plus I added 1 cup chopped pecans because I just love nuts in just about anything and voila....they are now baking in the oven and I will add a cream cheese frosting to these delicious morsels. Oh yum, I frosted one in a hurry and oh wow, these are really tasty...moist, pumpkinny and with that cream cheese frosting...bliss. My cupcakes are not the most beautiful specimens, but they sure are good.
OK, must run, girls are going to be here in about an hour and I still have bunches to do.
Linking to Deb's This and That Thursday and Nancy's Rural Thursday....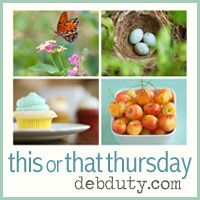 "How we spend our days is, of course, how we spend our lives." ~ Annie Dillard
Until next time....