Good morning!! I am anxiously awaiting this evening for two reasons...tonight is our annual Book Club Christmas gathering at my house where there will be lots of good food, good friends & good fun AND snow is on the way. We officially broke the record on Monday of this week for the longest streak in Chicago's history with no measurable snow. With today being Day 290 without, the weathermen have predicted 3-6 inches of that glorious white stuff to fall here tonight. Now you must understand, this is coming from a woman that does not have to get up early and travel to work thru the ice & snow, all I do is rise and shine, (? that's debatable) drink coffee, and gaze lovingly out my living room window. It's all in your perspective, folks.
Last night I finished addressing all of my Christmas Cards....I know, late as usual, but as I sat listening to Christmas music, gazing at the brightly lit Christmas tree, and watching the candles glow I felt very blessed. The only thing missing is my sweetheart, but God (and all the staff at his memory care facility) is watching over him carefully & lovingly.
Blessings to you today....!! Enjoy.
Now for more tidbits....
"I've learned that I shouldn't call my identical twin sister ugly." ~ Age 12
"I've learned that there is a great feeling of satisfaction in checking off that final item on my "things to do today" list." ~ Age 34
"I've learned that you shouldn't eat in a restaurant where the cook is skinny." ~ Age 55
"I've learned that while progress means change, change doesn't always mean progress." ~ Age 75
Sharing with Deb at This or That Thursday and Little Things Thursdays, and with Danielle at
Cool Clicks Thursday.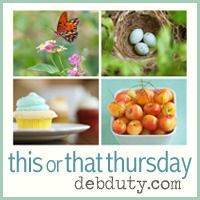 Until next time.....