I think this time of year time goes into "double-time" at warp speed. Days zip by at such a rapid pace, and all I want is for them to slow down so I can enjoy each and every moment of the holidays. Here it is already after 11:00 AM and I haven't accomplished one little itty bitty thing and there is still tons of decorating left to do. Oh well, I am going to have to go into "double-time" to get it done. But first.....I am posting a couple of more "possibilities" for Christmas Cards....tell me what you think.
Posting to Deb Duty's This or That Thursdays. Stop on over and see some delights.....hope your day is perfect.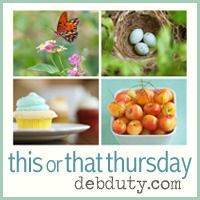 "You can't make footprints in the sands of time if you're sitting on your butt. And who wants to make buttprints in the sands of time." ~ Bob Moawad
Until next time.......