A zoo visit at night?? What??? The Brookfield Zoo celebrates Christmas by placing lights on just about anything and everything, well, not the animals, but everything surrounding the animals is lit up like a Christmas tree (a very lame joke). My grandson Brandon and his wife Hilary (my granddaughter-in- law) and I made a date earlier in the week to take in the lights at the zoo on Wednesday evening. The weather forecast has been pretty much the same day after day here, no snow but chilly so Wednesday night it was. I drove to their apartment and then from there we walked to a lovely restuarant close to their place. They live in a really cool neighborhood, everything within walking distance - parks - shopping - restaurants - Trader Joe's (yeah!!) the train. Strolling back we stopped in a couple of shops, eyed the sales and then off to the zoo we drove.
The amaryllis in their apartment had just bloomed a couple of days before....isn't it gorgeous!!
Charlie was really happy to see me when I arrived, but not so happy when he knew we were all leaving, so he gathered his toys in anticipation for our return.
It was really dark strolling thru the zoo, they had all of the main lights turned off to illuminate the Christmas lights but it sure made picture taking quite a challenge. It was so dark you had to watch your every step, so dark that you could easily run smack into someone and not see them until it was too late, so dark that seeing animals was almost impossible. A wipe-out between me and a baby stroller was definitely a possibility if I didn't watch my every step.
The zoo had several added attractions for Christmas celebration, one was a ice sculpturer. Have you ever seen this before?? He just goes at it with a chain saw and the results are stunning.
The children's petting zoo houses llamas and when we walked in, the not-so-groomed female on the right was very agitated. She paced, snorted, jumped, bucked, and paced some more. I think I figured out her agitation, the dandy looking one on the left was all duded up for Christmas, obviously going out on the town and she wasn't invited. Probably would have agitated me too.
The last place we stopped was the aquatic center, dolphins were swimming on their backs (is that how they sleep I wonder, must look that up), penguins were all snuggled in their holes, but a few were still moving. This hermit crab was walking across the glass like he was looking for a way out. A way out of the tank or a way out of that shell he carries around all the time??, not sure.
And lastly this colorful totally accessorized "thing".....I am not sure what this is, I failed to read the wonderful printed signs that give us all valuable information about what we are seeing right before our eyes, but I was sooooo interested in taking it's picture that I failed to find out the what?? It has been far too many years to recall any biology info I may have learned at one time. This "what" brings to mind one of my favorite quotes from the movie "Steel Magnolias" with Julia Roberts, Sally Field, Olympia Dukakis, Shirley McClaine, Dolly Parton & Darryl Hannah (if you haven't seen it, rent it, it is the PERFECT chick flick movie) when Clarisse (played by Olympia Dukakis) says...."the only difference between us and the animals is our ability to accessorize" but this "what" really knows how to accessorize.
I am wishing that your New Year will be totally accessorized with blessings and joy.
"Never mistake knowledge for wisdom. One helps you make a living; the other helps you make a life." ~ Sandra Carey
Linking up with Deb.....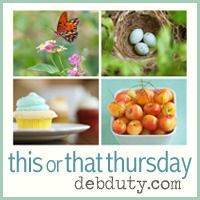 Until next time......