Last night I took my tripod, my Nikon D7000 and my Tamron 18-270 up to the school grounds to attempt shots of the fireworks that were scheduled for 9:45. The fireworks, and the pictures were a success. I was in aperature mode, set my ISO at 200, my F stop at 13 and held my breath as I began snapping. Altho, the shutter took what seemed like forever before it would snap back into place....I guess that is what you call a long exposure...huh? Don't have
much
any knowledge of shooting at night. But I am happy with what I did capture, knowledge or not, actually I think it was probably sheer luck.
If I get another opportunity I may try to shoot in manual mode, just to see the difference.
Instead of boring you with shot after shot, I just put them all together in one collage. Happy 4th!!
I am so proud of this I am linking to Amy at Love Bug "Show off Your Shot" And for the first time Mosaic Monday at Little Red House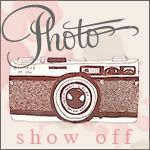 And since it is Monday, I also have a pic for Rosie's Color Me Weekly. I captured this last Friday evening when the sun was beginning to set.

"The winds that blow through the wide sky in these mounts, the winds that sweep from Canada to Mexico, from the Pacific to the Atlantic - have always blown on free men."
~ Franklin D. Roosevelt
Until next time.....