Can you hear it....that big sigh of relief? I came home Tuesday evening from a lovely dinner with my Bunco gals celebrating 2 birthdays, to a computer whose internal fan was making way too much noise and a blank screen. Nothing I did would bring my screen back so I shut it down and went to bed. The next morning, same thing. Off I went to Bible Study where I even talked about it, stating it was definitely a major concern but trust and faith would get me through. Trust that even if I lost everything there would be major disappointment, but faith that I would just have to rebuild.
After Bible Study I drove to Hobby Lobby to buy some new candles, didn't find what I was looking for, but managed to come across this sweet thing...it was waiting for me.
Also stopped at Trader Joe's looking for Spring, but Wednesday's must not be good days for flower buying at TJ's because for the last 2 weeks I have been disappointed in their selection. No flowers this trip, so headed home with the dreaded computer problem lurking in my thoughts.
Arriving home, same thing. I ate some lunch and thought....ok what is my next move? I definitely cannot live without my computer, well, I really can, but you know how important this piece of technology is to a blogger and a photographer. I made the decision to call upon the Geek Squad at Best Buy. I bundled up my computer, pretty easy since it is a laptop and headed off to BB.
Waiting in line, I have to admit that I was praying silently for a quick fix and no loss to all the stuff encased in that piece of steel and plastic that I held in my arms. "I can help you over here"....said a young lady with a Geek Squad shirt on. "What seems to be the problem?" I explained as she opened the cover and begin to check, removing the battery and reinserting it. (which by the way, I had already done)...."is this what you were getting?" OMG everything began to boot up, everything looked normal, everything was there. Another Geek Squad tech approached and asked the same questions, all the while my computer was booting up, all intact. I am not sure what the problem was, I don't know what caused it, but I told the Geek Squad lady that she had magic fingers and definitely needed a raise. And silently I was saying a prayer of thanks for the quick fix and no loss.
And again, the weather forecast is for possible snow. Yesterday we had blowing snow, you know the kind that comes down sideways and blows around but never accumulates? I had hopes, but by evening the skies had cleared and so had the snow. But right now I am just thankful that my computer is back in working order, snow would just be a bonus.
Linking to Deb's This or That Thursday and Little Things Thursdays and
Danielle's Cool Click Thursdays.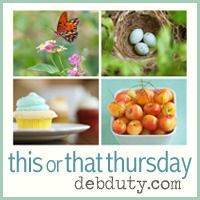 "Computers must be male. As soon as you commit to one you realize that if you had waited a little longer, you could have obtained a better model. In order to get their attention, you have to turn them on. Big power surges knock them out for the rest of the day." ~Author Unknown
Until next time....