Yesterday my Bible study ladies, I call them "my" because I believe that God brought these ladies into my life when I needed them the most, met at Barnes & Noble for coffee and chat. Some of the conversation centered on the continuing series "Downton Abby" on PBS, great story, lovely scenery, gorgeous costumes, and a cast that is a producer's "dream team". If you haven't been enthralled by Lord & Lady Grantham, and their 3 daughters, the large staff of butlers, cooks, maids, personal valets, and drivers at Downton Abby then I encourage you to join the rest of us zillion watchers and fall in love.
As we were enjoying the talking and laughter, one of the ladies piped up and said..."I usually don't like women, but I love you ladies." And that essentially sums it up for me as well, except for the part about "liking women"....I do like women, sometimes we are a pain in the a_ _ but I don't know what I would do without my women friends.
Joining up with Deb Duty for "This or That Thursday".......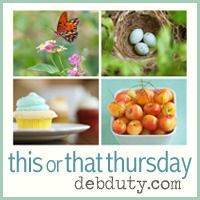 This was yesterday, sunny, mild and in the 50's.....
This is today, snowing and in the 30's........
"We are taught there are seven sacraments, but some theologians say there should be eight. The eighth sacrament is the "sacrament of friendship." ~ Rev. Mark Connolly
Until next time.....