Yesterday, before I devoured, yes, devoured the last piece of chocolate that a friend brought me as a gift when I hosted the Christmas Coffee (see
Coffee Tea and Ikea
) I decided to take a picture and use the pic as a Thank You note. After doing just that, I began to think about cursive writing and how it is becoming a lost art. Do you know they are not even teaching cursive writing in our schools anymore? That astounds me, knocks my socks off that our future generations will not enjoy hand-written letters. I don't know about you, but some of my most cherished mementos are those hand-written letters from my husband while he was serving in the Army shortly after we were married. And when I receive a hand-written thank you in the mail, or even just a "thinking of you" note, it is a true pleasure. I can't even remember the last time I received an actual hand-written letter. You remember those, letters written on lined paper, folded in various ways to fit into whatever envelope was handy, or those beautiful hand-written letters on lovely stationery from your Aunt or Grandmother. Memories, savored (remember, savor is my word for the year). So I encourage you to pick up pen and paper and surprise someone with a handwritten note. It will bring such joy as they open their mailbox and see something handwritten, not an advertisement, or a bill, but something specially handwritten just for them. If you don't have any "pretty" stationery, lined paper will do just fine.
The picture.....
The note.....
"All we have to do to be successful is follow the advice we give to others." ~ Dear Abby
Linking up to Deb's.....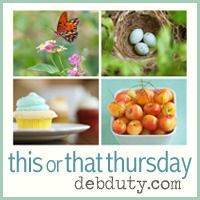 Until next time.......