I entitled this post Thursday Thoughts, but honestly I don't have any thoughts tonight. I could make a comment on the trial of John Edwards, the golden boy turned scum-bag that used thousands of dollars in campaign money to hide his mistress and baby from his cancer-stricken dying wife, but I won't. I could comment on the Vatican nun crackdown that hits the US group for "radical feminist" ideas, but I won't. Or I could comment on the fact that the state of Illinois now has 2, yes, 2 former govenors in federal prison for corruption but I won't. Instead I am just going to post some pretty pictures that I took in my backyard today. These make me feel a whole lot better than the 3 subjects that I am not commenting on.
These are all pics of the Bridal Veil Viburnum bushes that are growing in my yard and my neighbors yard. Aren't they pretty?
Adorama is having a $5.00 sale on 16x20 poster size prints, so decided to have this made into one. The poster was $5.00, shipping was $6.95 hmmmm.
Same flower, different processing....no poster.
As I walked out my front door this evening there was this sweet red robin perched right on top of this red truck. I ran in, grabbed my camera, changed to my trusty Tamron 18-270mm lens thinking all the while that the robin would be long gone before I got back. But nope, there he was, pretty as a picture and posing for me too.
So I think displaying these pics was a better choice than commenting on any of the above subjects, don't you agree? Sharing with Deb at This or That Thursdays and Nancy at Rural Thursday....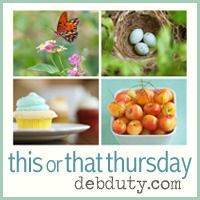 "There are only two things you "have to do" in life. You "have to" die and you "have to" live until you die. You make up all the rest." ~ Marilyn Grey