Do you believe in angels? I can't help but believe that there is one that sits on my shoulder, protecting me, and definitely trying to guide me (obviously I don't listen sometimes). She was with me through my various car accidents, protecting me from harms-way. She is with me when I get out of sorts, bringing me out of my slumps back to realizing the gifts that I have. She directs people into my life that amaze me, love me, guide me, encourage me. Some may call their angel by another name, but whatever you call yours....be grateful that she has picked you.
Joining Deb at This or That Thursdays.....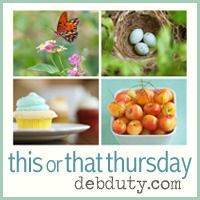 Until next time.....