I love the look of textures on photographs. The first time I saw an image texturized with Kim Klassen's textures I literally gasped with pleasure at the sight. I began collecting textures from Kim (she is one generous lady) and across Flickr land using them in many of my images. Last week over at Ashley Sisk's
Tutorial Tuesday
she shared with us how to change the background in an image. Great information. So today I decided I would give the tutorial a go.....this is where the teeny weeny tutorial comes in.
I began digital scrapbooking a couple of years ago....went head-over-heels in love with it in fact. Started collecting papers, elements, kits etc etc. So needless to say I have a stash of the digital papers just like I have downstairs in my piles and piles of the real stuff. After taking pictures of my latest red tulip purchase I decided to try the new back-drop idea.
One of the best purchases I have made for less than $10 is some white foam core in various sizes purchased from Michaels & Hobby Lobby. I have set up a mini studio on the dining room table with my foam core, one piece to put the object on and the 2nd one as a backdrop. There have been various tutorials lately about making your own light-box and one day I will give it a try, but this works for me right now, even at night. Since I use Elements 9 obviously these instructions are for users of Photoshop or Photoshop Elements. After choosing the image you want, crop it, lighten it more light than dark, tweek it the way you like and lastly flatten the image, and now comes the magic. I chose a light colored digital paper from my stash that I thought would enhance the image, dragging it into elements and placing it on top of my original image, sizing it appropriately. (If you want more detailed instructions on applying layers please be sure and visit
Kim Klassen's
web site) In the layers tab with your digital paper highlighted, chose "darker color" at 100%. And voila....your image is still nice and clear and your digital paper is now your background. I tried several different papers and the more neutral and light the better. The third image with the red & blue stripes had stripes that showed on top of the tulips, so I just used the erase tool and erased those. But the other 2 images had no signs of the papers on the image. Magic??!! I think so. I am sure that the neutral backdrop was definitely part of the magic, don't think this would work if you had a lot of things going on in the background. You need to stick to the original tutorial for that magic. I think these would make great greeting cards or prints...what do you think? Give it a try. And PS after all was complete I used my favorite action from the Coffee Shop blog, Velvet Truffle.
Original
After adding digital paper at "darker color" 100%
Joining Deb at This or That Thursday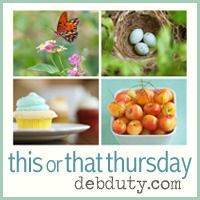 "The trouble with life is, you're halfway through it before you realize it's a "do it yourself" thing." ~ Annie Zadra
Until next time......